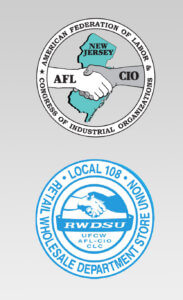 Please join the New Jersey State AFL-CIO and RWDSU-UFCW Local 108 in supporting our brothers and sisters who are employed at Burlington Woods Nursing Home through an informational picket line and rally on Saturday, July 24.
Our brothers and sisters have given their all during the ongoing COVID-19 pandemic and deserve to be treated with dignity and respect. Our Local 108 members are fighting for good medical coverage and maintaining needed paid time off. Some of these workers have not had time off in 16 months!
WHO: RWDSU-UFCW Local 108
WHAT: Informational picket line and rally
WHEN: Saturday July 24, 12 to 4 pm
WHERE: Burlington Woods Nursing Home, 115 Sunset Road, Burlington NJ
Please stand in solidarity with our brothers and sisters who care for the sick and aged! Wear your union colors! Show your union pride!