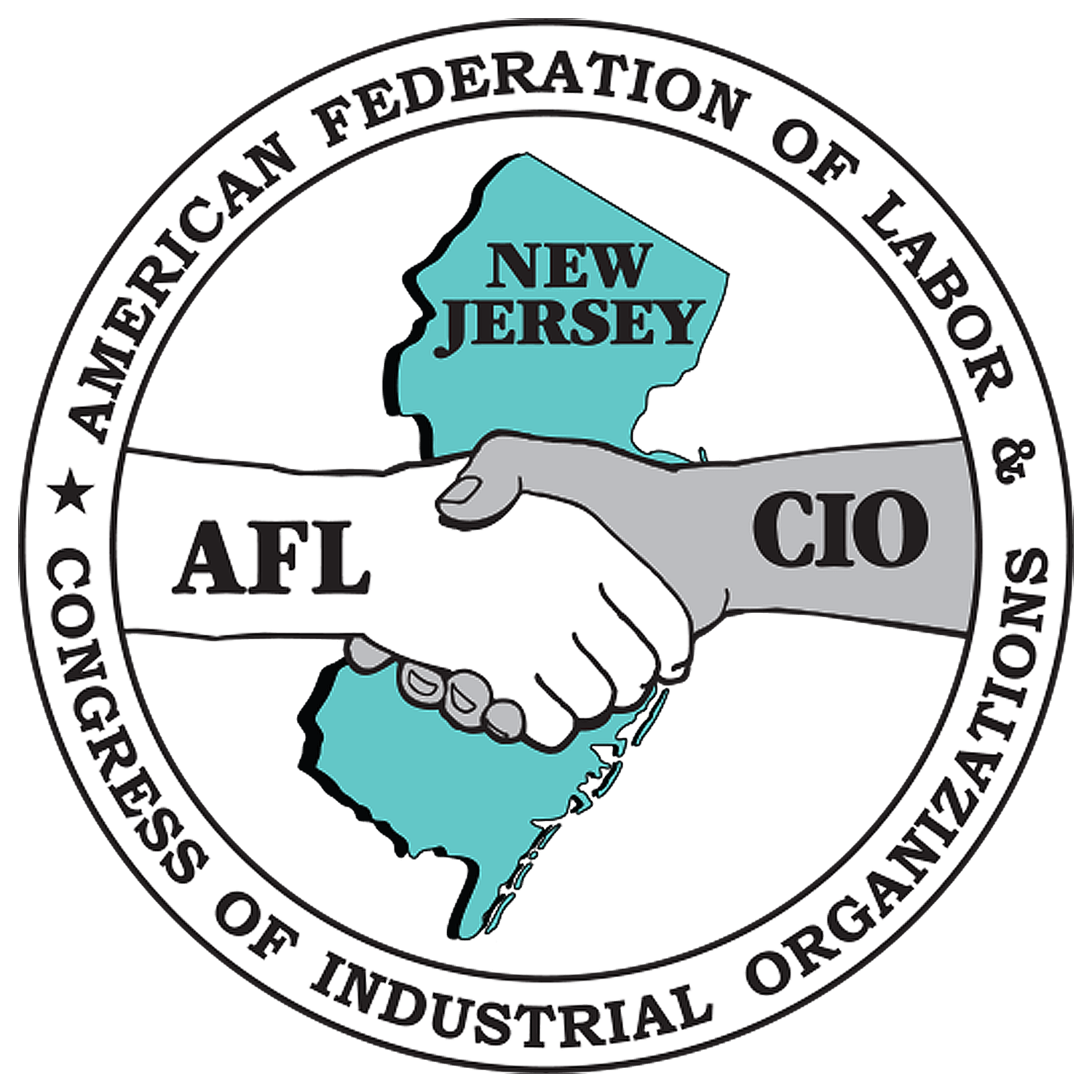 FOR IMMEDIATE RELEASE
Wednesday, June 22, 2022
CONTACT: Charles Wowkanech
President
(609) 989-8730
PRESS RELEASE
New Jersey State AFL-CIO Announces 2022 Endorsements
For U.S. House and Labor Candidates for Elected Offices Throughout the State
ATLANTIC CITY, NJ – Today, the New Jersey State AFL-CIO gathered with over 300 delegates and guests from affiliated unions at the Hard Rock Hotel & Casino for the labor organization's 2022 Legislative/COPE Endorsement Conference. National AFL-CIO President Liz Shuler and Governor Phil Murphy amped up the crowd, while renowned political analyst Charlie Cook provided his insight on the national political environment. In a democratic process, delegates voted on accepting congressional candidate endorsement recommendations from local union leadership, known as Central Labor Councils, as well as endorsements for union members who are running for local offices throughout the state.
Consideration for recommendation and endorsement is based on a candidate's pro-labor record and their support for working family's issues. For candidates, earning an endorsement from the body means being able to count on the state federation's considerable political clout, recruiting union members for member-to-member walks and phonebanks, as well as providing digital and mail communications to encourage union members and their families to vote for labor-backed candidates.
Conference speakers also included Congressman Donald Norcross, Congressman Andy Kim, Assemblyman William Sampson, Perth Amboy Mayor Helmin Caba, Perth Amboy Councilwoman Rose Morales, Congressional candidate Robert Menendez (CD-8), members of UFCW Local 360 Cannabis Division, and Starbucks workers recently organized by Workers United.
"These mid-term elections could prove to be the most consequential in our history," New Jersey State AFL-CIO President Charles Wowkanech said. "The working family values held by our endorsed candidates reflect the potential we have to strengthen our country and invest in New Jersey. We want a Congress that will continue to get things done for our state and pass pro-worker legislation, such as the PRO Act. We look forward to supporting our labor candidates and political partners as we rise up to fight for good jobs, a better standard of living for all workers, stronger voting rights, and to ensure the health and safety of all."
"Our endorsed candidates will ensure our state federation's continued preeminent role as the voice of working families in New Jersey," said Secretary-Treasurer Laurel Brennan. "We Look forward to the progress that we will continue to achieve together after a victory in November."
The conference also included the New Jersey State AFL-CIO's 28th Annual Labor Awards Reception held the evening of Tuesday, June 21st. The reception honors outstanding leaders in government, business and labor, reinforcing the need for all New Jersey Stakeholders to come together in support of working families throughout our state. This year's honorees were National AFL-CIO President Liz Shuler, New Jersey Governor Phil Murphy and the Vice President of Labor Relations at Bimbo Bakeries USA, Phil Paturzo.
The list of endorsements for Congress is:
District 1
*Donald Norcross (D-01
District 5
*Josh Gottheimer (D-05)
District 9
*Bill Pascrell, Jr. (D-09)
District 2
*Jeff Van Drew (R-02)
District 6
*Frank Pallone, Jr. (D-06)
District 10
*Donald M. Payne, Jr. (D-10)
District 3
*Andy Kim (D-03)
District 7
*Tom Malinowski (D-07)
District 11
*Mikie Sherrill (D-11)
District 4
*Chris Smith (R-04
District 8
Robert Menendez (D-08)
District 12
*Bonnie Watson Coleman (D-12)
* Indicates Incumbent
The list of Labor Candidates is:
Name Union Office Sought
Vince Sera* AFSCME 1210 Brigantine Mayor
Dolores Witko AFSCME 1199J Closter Mayor
Hailey Cruz AFT 857 Perth Amboy Council
Tony DePrince* AFT 4907 Magnolia Council
Cynthia Simon AFT 2222/1796 Wayne Board of Education
John F. Capo* BAC 4 Totowa Council
Jason Allen* CWA 1033 Pemberton Committee
Taiwanda Terry-Wilson CWA 1033 Trenton Council
Mark Kruszczynski CWA 1036 North Plainfield Board of Education
Karol Ruiz CWA 1037 Dover Alderman
Tassie York* CWA 1037 Neptune Committee
Cathleen Lewis CWA 1037 Mercer County Commissioner
Jenna Figueroa Kettenburg CWA 1038 Trenton Council
Nelson Carney, Jr. CWA 1085 Salem County Commissioner
Joseph Hiles* CWA 1085 Woodstown Council
Charles Hassler IBEW 94 Salem County Commissioner
Thomas Sullivan, Jr.* IBEW 164 Bergen County Commissioner
Bert Steinmann* IBEW 269 Ewing Mayor
Ryan Doran* IBEW 351 Cherry Hill Fire Commissioner
Donald Norcross* IBEW 351 CD 1 U.S. House of Representatives
Mike Vizzard* IBEW 351 Commercial Township Committee
Kyle Miller IBEW 351 Woodbury Mayor
Kevin Egan* IBEW 456 New Brunswick City Council
Michael Riordan* IBEW 827 Brigantine Council
Thomas Lyon* IBT 676 Delran Council
Pat Lepore* IBT 802 Passaic County Commissioner
Donald Heverly Ironworkers 399 Williamstown Council
Walt Lenkowski Ironworkers 399 Lindenwald Council
Michael McGlynn* IUOE 68 Fairfield Council
Nick Civitan* IUOE 825 Frankford Council
Ed Kalinowski IUOE 825 Deptford Board of Education
Victoria Pacheco IUOE District 1, JNESO Keyport Mayor
Rob Lane, Jr.* IUPAT 694 Neptune Committee
Ed White LIUNA 172 Runnemede Mayor
David Bander* SEIU 1199NJ Plainsboro Committee
Roshan White* UA 24 Scotch Plains Council
Concetto Formica UBC 253 Franklin Boro Council
Kevin Goodsir UBC 253 West Milford Council
Ron Skirkanish UBC 254 Manville Council
Joe Scaletti* UBC 254 South Brunswick Board of Education
Dane Lamcken* UBC 255 Estell Manor Council
Michael Porretta* UBC 255 Folsom Council
Andrew Bulakowski UBC 255 Cape May Commissioner
Matthew Cox* UBC 441 Dennis Township Committee
Matt Kane UFCW 152 Corbin City Mayor
Nereyda Curiel* UFCW 360 Haledon Council
OPEIU:153
* Indicates Incumbent