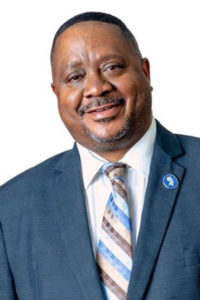 The New Jersey State AFL-CIO congratulates Weldon Montague, a Labor 2020 candidate and union brother with CWA 1037, who won a nail-biter of an election to an at-large seat on the City of Orange Township Council.
On May 12, Brother Weldon was up by only one vote. When the final vote-by-mail ballots were received and counted, his margin of victory was 17 votes – proof positive that every vote counts!
This was Weldon's first run for public office, and his victory means the Labor Candidates Program has delivered 1,090 election victories since its inception. In the May 12 election, 75% of our labor candidates won their races in New Jersey's first foray into all vote-by-mail.
Our state's political primaries, to be held on Tuesday, July 7, will be mostly a vote-by-mail election. All registered Democratic and Republican voters will receive a postage-paid vote-by-mail ballot. All unaffiliated voters and those listed as inactive will receive a postage-paid vote-by-mail application, which must be completed and mailed for them to receive a ballot.
In this crucial election year, and with the ongoing pandemic, the New Jersey State AFL-CIO urges all union members and members of their households to make sure they are REGISTERED TO VOTE, and then VOTE BY MAIL in the primaries and in the Tuesday, Nov. 3, general election.
Please CLICK HERE for a vote-by-mail application.