Elections matter!
With Gov. Phil Murphy and the entire Legislature up for election in November, let's reflect on what has been accomplished legislatively under their leadership.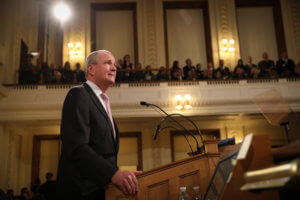 Over the past 3½ years, Governor Murphy and the Democratic Legislature, led by Senate President Steve Sweeney and Speaker Craig Coughlin, have passed over 40 laws supported and advocated for by organized labor.
Since January 2018, we have had two very productive legislative sessions. This was a team effort by pro-labor elected officials, affiliated unions, union members, Central Labor Councils and Building Trades Councils.
We thank the legislators who voted in support of these important pro-labor initiatives and Governor Murphy for his advocacy and support!
Now we need to get to work to help ensure that this November, endorsed candidates for the Legislature and Governor Murphy are re-elected with the help of union voters.
Below are some of the new laws signed by Governor Murphy….
Higher Wages
Increases the Minimum Wage to $15 an hour incrementally over five years (A-15: Coughlin / Tucker / Timberlake / Sweeney). Signed into law in February 2019.
Requires that the Prevailing Wage Is Paid on Private Sector Construction and maintenance projects under certain circumstances, even if no public funds are used on the project. A priority for the Boilermakers Union, the bill applies to refineries and other hazardous facilities (S-972: Madden / Sweeney). Signed into law in August 2020.
"Healthy Terminals Act" (A-2487: Quijano / Benson). The "Healthy Terminals Act," advocated for by SEIU 32BJ, UNITE HERE and RWDSU, would require certain airport and train station workers to be paid increased wages and benefits. Signed into law in April 2021.
Applies Prevailing Wages to Certain Fabrication Projects (S-2454: Madden / Murphy / Houghtaling / Downey / Egan). Signed into law in March 2019.
Retirement Security
The 2022 budget fully funds New Jersey's public worker pension system for the first time since 1996. This historic payment not only provides financial security for retirees, it also saves taxpayers $861 million over coming years. The budget was signed into law in June 2021.
Expands and Strengthens the State's Paid Family Leave Program
(A-3975: Quijano / Giblin / Downey / Moriarty / Sweeney / Diegnan / Ruiz). Signed into law in February 2019.
Worker Safety
Requires Employers Provide 40 Hours of Paid Sick Time Per Year to Employees (A-1827: Weinberg / Lampitt). Signed into law in 2018.
Requires Panic Devices to be provided to certain hotel workers to protect against workplace harassment and sexual assault (S-2986: Weinberg / Greenstein / Armato / Mazzeo). Signed into law in June 2019.
Improves Staffing, Health & Safety Requirements in the Hospitality Sector (A-4131: Karabinchak / McKnight / Vainieri Huttle / Sweeney). A priority for health care unions, the bill was signed into law in June 2020.
The "Dominick Marino PFRS Enhanced Benefits for Surviving Spouses Act" (S-487: Sacco / Stack / Jimenez) is named after the former firefighter and past President of the Professional Firefighters Association of New Jersey (PFANJ). The new law will provide financial security for a member's surviving spouse by ensuring that the accidental death benefit provided by the Police and Firemen's Retirement System cannot be below $50,000 annually. The law was signed in January 2021.
Benefits & Protections for Essential Workers Impacted by COVID-19
Changes the Legal "Burden of Proof" Standard for Essential Workers Infected with COVID so they can receive benefits if infected while working. (S-2380: Sweeney / Scutari / Singer / Greenstein / Giblin / Burzichelli / Murphy / Downey). Signed into law in September 2020.
Workers Compensation Reform (increases benefits to dependents) for Essential Workers that Died of COVID-19 after contracting the virus on the job (S-2476: Singleton / Addiego / Murphy / Giblin / Verrelli). Signed into law in April, 2021.
Requires Hospitals and Other Health Care Facilities to Report COVID-19 Data related to health care workers and first responders (S-2384: Greenstein / Gill / Spearman / Vainieri Huttle). Signed into law in February 2021.
Union Rights, Organizing & Labor Harmony Agreements
"Workplace Democracy Act" (A-3686: Coughlin / Reynolds-Jackson / Moriarty / Sweeney / Greenstein). The law addresses several public sector bargaining issues related to the U.S. Supreme Court ruling "Janus v. AFSCME." Signed into law in May 2018.
Allows Labor Harmony Agreements in Hotel & Hospitality Projects (S-3923: Madden / Singleton). A priority for the Hotel Trades Council, the law was signed in January 2020.
Allows Labor Harmony Agreements in Retail and Distribution Projects (S-577: Madden). A priority for the RWDSU, the bill passed both houses in June 2021 and is currently on Governor Murphy's desk.
Recreational Marijuana Legalization – "Seed to Store" Organizing Opportunities: Signed into law in February 2021, the "New Jersey Cannabis Regulatory, Enforcement Assistance, and Marketplace Modernization Act" was a priority for the UFCW and other unions seeking to organize and develop this new industry. The law legalizes personal-use cannabis for certain adults. The law also includes project labor agreements, labor harmony agreements and other pro-union organizing initiatives.
Reforming the Unemployment Insurance System
Reforms the Definition of "Misconduct" so workers aren't denied legitimate benefits (A-3871: Chiaravalloti / Egan / Diegnan / Cruz-Perez). Signed into law in August 2018.
Grants Unemployment Benefits to Certain Striking Workers (A-3861: Quijano / DeAngelo / Giblin / Vitale / Gopal). Signed into law in August 2018.
Equal Pay, Protecting Jobs and Wages
Requires Equal Pay for Women and Minorities, Fights Employer Discrimination (S-104: Weinberg / Sweeney / Cunningham / Lampitt). Signed into law in April 2018.
Increase Penalties and Enforcement Against Wage Theft: (S-1790: Weinberg / Greenstein / Quijano / Lampitt / DeAngelo). Signed into law in August 2019.
Maintaining Nuclear Power in New Jersey: (A-3724: Sweeney / Smith / Van Drew / McKeon / Burzichelli / DeAngelo / Egan). With over 6,000 members directly employed by nuclear energy companies, and thousands more dependent upon the supply chain it creates, keeping New Jersey's largest source of green energy viable is important to our workforce, the environment and the economy. The bill was signed into law in May 2018.
Concerns Subcontracting Agreements Entered Into by Four-Year Public Institutions of Higher Education: A top priority for AFT, AFSCME, AAUP, IFPTE and other unions with workers in the education sector, A-4680 (Sweeney / Burzichelli) and S-2303 (Bucco / Singleton / Freiman) place restrictions on the ability of four-year higher education institutions, K-12 schools and County Colleges to subcontract – and therefore eliminate good-paying union jobs. The bills were signed into law in on June 11, 2021, and in September 2020.
Fair Trade
Limits Call Center Job Outsourcing to Foreign Nations: (A-1992: Diegnan / Turner). A priority for utility workers unions, the bill was signed into law in January 2020.
Strengthens the WARN Act: (S-3170: Cryan / Pou / Quijano). The WARN Act is a law that protects workers from the impacts of large-scale layoffs – often due to plant relocations to low-labor-cost nations – by requiring employers to give a 90-day notice to employees. This bill reforms this important law and also provides for severance pay to laid-off workers under certain circumstances. The bill was signed into law in January 2020.
"Buy American" Steel & Iron Products for Roads and Bridges: (S-853: Sweeney / Beach). Working with the Steelworkers Union, the New Jersey State AFL-CIO advocated strongly for this law. Signed on June 24, 2021.
Creating Good-Paying Union Jobs
Making New Jersey a National Leader on Wind Energy Production: Several bills have been signed that will position New Jersey as the largest wind-energy-producing state in the nation, creating thousands of union jobs not only in construction of these wind turbines, but also in the transportation and manufacturing industries.
PLA Expansion to Roads, Bridges, Sewers and Water Treatment Facilities / Diversity Guidelines on PLA: A-5378/S-3414 (DeAngelo / Egan) expands the permissible use of project labor agreements to additional construction projects and also promotes workforce diversity. Signed into law on April 30, 2021.
The 2022 budget fully funds infrastructure and rehabilitation projects such as the Portal North and Raritan River bridges, the Walter Rand Transportation Center, Newark Penn Station, local rail stations and other projects as an investment for the future and a source of good union construction jobs. Signed into law in June 2021.
Apprenticeship Standards for Licensed Electricians: (A-2182: DeAngelo / Wimberly / Quijano / Scutari / Singleton). Signed in December 2018.
"Misclassifying" Workers as Independent Contractors: 9 New Laws on the Books
In June 2021, a four-bill package of misclassification enforcement bills was signed into law. These bills were pushed by the Murphy Administration and continue to illustrate their aggressive posture on this important issue. These four laws signed by Gov. Phil Murphy illustrate his administration's commitment to working closely with labor and legislative leaders to combat unlawful misclassification of workers.
Since the start of his administration, the governor has made it a priority to stop employers from falsely classifying employees as independent contractors, depriving them of fair wages, benefits, job security and workplace safety and health protections.
In May 2018, Governor Murphy's executive order created the Task Force on Employee Misclassification, and that task force's work has led to legislative successes including these.
The first major package of five laws the Governor signed was in January 2020. They are:
A-5839 (Moriarty / DeAngelo / Verrelli / Madden / Singleton) increases penalties on employers who take advantage of the classification system to avoid paying tax contributions on employees' wages. Employers found to be misclassifying workers can now be fined up to $250 for each misclassified employee; up to $1,000 for each subsequent violation; and up to 5% of the employee's earned wages in the last year, to be paid to the employee.
Under this law workers are also protected from retaliation by their employers for "whistleblower" complaints on misclassification by their employers.
A-5843 (Speight / Verrelli / Moriarty / Lagana / Greenstein) requires employers to post a conspicuous notice of misclassification laws and workers' rights thereunder.
A-5840, A-5842 & A-5841 address tax-related issues and make available to the public a list of employers violating misclassification laws.
The second major package of four laws builds on the initiative by Governor Murphy and the Legislature. They are:
A-5890/S-3920 (Verrelli / Madden / Greenstein) strengthens enforcement of New Jersey employee misclassification laws by granting the Department of Labor and Workforce Development more options to take a violator to court, seek fines, issue stop-work orders at all of a violator's work sites and order those employers to pay their workers during stop-work periods.
A-5891/S-3921 (Egan / Karabinchak / Space / Madden / Oroho) creates the Office of Strategic Enforcement and Compliance to coordinate enforcement of state wage, benefit and tax laws.
A-5892/S-3922 (Sumter / Madden / Lagana) streamlines how employee misclassification is identified, especially when employees are misclassified so employers can evade paying insurance premiums.
A-1171/S-1260 (Freiman / Karabincak / Verrelli / Singleton / Oroho) requires the creation of a statewide database of certified payroll information for public works projects.
Solidarity Matters!
Passage of these laws is the result of electing officials committed to the union values and needs of working people. Through our collective efforts, we have proven once again that we can achieve the strongest pro-worker, most progressive legislation in the nation.
Thank you to rank-and-file union members and union leaders who advocated for these laws at the grass-roots level, and thank you to labor legislators, legislative leadership, every legislator who voted in favor of these bills and Governor Murphy who signed them into law. Working together is the only way we can achieve legislative success.
We thank them and look forward to working to get them re-elected this November.