The New Jersey State AFL-CIO congratulates Amy Kennedy for her strong showing in last week's Democratic primary in the 2nd Congressional District. With this victory, Democratic candidate Kennedy will begin her general election campaign against Republican Rep. Jeff Van Drew.
Kennedy has more than a decade of experience working in public schools in New Jersey as a teacher and member of the NEA. Amy was born in Atlantic City and grew up in Pleasantville and Absecon, New Jersey. She and her husband, former U.S. Rep. Patrick J. Kennedy, live in Brigantine, New Jersey, with their five children.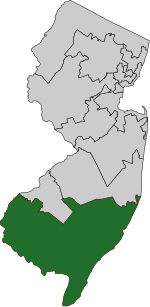 Van Drew, of Dennis Township, New Jersey, has been in Congress less than two years, and his voting record thus far has been mixed in regard to his support for labor issues. Particularly since he switched parties in December 2019 from Democrat to Republican and pledged allegiance to President Trump, his anti-labor positions have become more prevalent.
In 2019, Van Drew's first year in Congress as a Democrat, he had a pro-labor voting record. But since then, he has voted against the interests of working people on key issues. In February, he voted twice in support of "Right to Work" (RTW) amendments for the PRO Act (Protecting the Right to Organize). Despite Van Drew's support for this policy, which has decimated the union movement in RTW states for decades, the Democratic House majority rejected the amendments. In the end, Van Drew did vote for the PRO Act along with all the representatives in New Jersey's House delegation.
In May 2020, during these challenging times, Van Drew also voted against the HEROES Act, which would have aided workers struggling during the coronavirus pandemic by extending unemployment, granting hazard pay for essential workers, and providing a $6,000 family stimulus payment.
Organized labor in New Jersey is very familiar with Van Drew's 16 years as state legislator. Van Drew consistently had the lowest pro-labor voting record of any Democrat, and during his final legislative term (2016/2017) before leaving for Congress, he had an abysmal 38% pro-labor voting record. Several key anti-worker votes he cast as a legislator included:
In 2010, he voted in favor of all the Gov. Chris Christie-led cuts to public employee pensions and health care benefits.
In 2012, he was the only Senate Democrat voting against raising the minimum wage by $1.25 and also the only Senate Democrat voting against a $1 increase via ballot referendum (SCR-1).
In 2016, he voted against phasing in a $15 minimum wage over four years and voted against raising the gas tax to pay for infrastructure improvements and job creation for the building and construction trades.
Kennedy has pledged to fight for the Workers Bill of Rights: the right to collectively bargain, the right to high-paying jobs, the right to a secure retirement, the right to a safe workplace, the right to health care, the right to overtime pay, the right to equal pay for equal work, the right to balance work and family, and the right to benefits and legal protections. She believes it's not enough to simply maintain the labor rights we already have – especially after decades of attacks by Republicans, corporations, and the courts. She believes we must make it easier for workers to organize and to expand and grow unions and increase their bargaining power. She is also a strong proponent of infrastructure investment as one of the best ways to boost our economy and create good-paying construction jobs.
With 112 days until the most important election of our lives, please carefully consider Jeff Van Drew's voting record in both Congress and the State Legislature as well as consider Amy Kennedy's policy positions on labor issues.
Now more than ever, it is important to know the facts about where our elected officials stand on issues crucial to our members.