March 18, 2020
The president's 15-day plan
Listen to and follow the directions of your state and local authorities.
If you feel sick, stay home. Do not go to work. Contact your medical provider.
If your children are sick, keep them at home. Do not send them to school. Contact your medical provider.
If someone in your household has tested positive for the coronavirus, keep the entire household at home. Do not go to work. Do not go to school. Contact your medical provider.
If you are an older person, stay home and away from other people.
If you are a person with a serious underlying health condition that can put you at increased risk (for example, a condition that impairs your lung or heart function or weakens your immune system), stay home and away from other people.
New Jersey's 3-digit plan
Via voice or thumbs, all residents with questions about COVID-19 can call 2-1-1 or text NJCOVID to 898-211 to stay informed. To receive live text assistance, residents can text their ZIP code to 898-211.
NJ 211 is New Jersey's statewide, comprehensive, information and referral service operated by United Ways of New Jersey. NJ 211 team members will detail all resources available to Garden State residents who ask.
Show us the money?
The Trump administration is pressing for direct payments to Americans to take some of the pain out of the coronavirus economic crisis. According to reliable reports, the more generous proposal would have the government send two $250 billion rounds of checks directly to American taxpayers, the first on April 6 and the second on May 18. Payment size would depend on income and family size, reports indicated.
Social distancing on steroids
The Trump administration wants all federal agencies to "minimize face-to-face interactions" but also wants the government to function as normally as possible. So local offices of agencies like the Social Security Administration are closed to the public for the foreseeable future, but border protection, postal delivery, air traffic control, medical services and, of course, tax collection will continue at a 6-foot distance.
State agencies have been following suit as well – Motor Vehicles, One-Stop Centers for unemployment, most others – as have city halls all over the state.
Big rigs, CDLs get an extension, too
The expiration date on personal driver's licenses, learner's permits and vehicle registrations has been extended two months. The state Motor Vehicle Commission announced the extension also applies to commercial driver licenses, commercial learner permits, commercial registrations and temporary tags.
A different kind of early-bird special
Whole Foods, Stop & Shop and Target are among the grocery chains in New Jersey that are opening an hour early – usually 6 a.m.; please check with your local store – to let seniors and other potentially vulnerable people shop with loss potential exposure to the coronavirus. Other supermarkets are expected to do the same.
No matter what time you shop, most stores are limiting amounts of certain items – toilet paper, etc. – that people have been buying in extreme bulk.
A beneficial chart
The New Jersey Department of Labor and Workforce has published this chart to help you understand your benefits if you are out of work or must stay home. CLICK HERE for a printable version.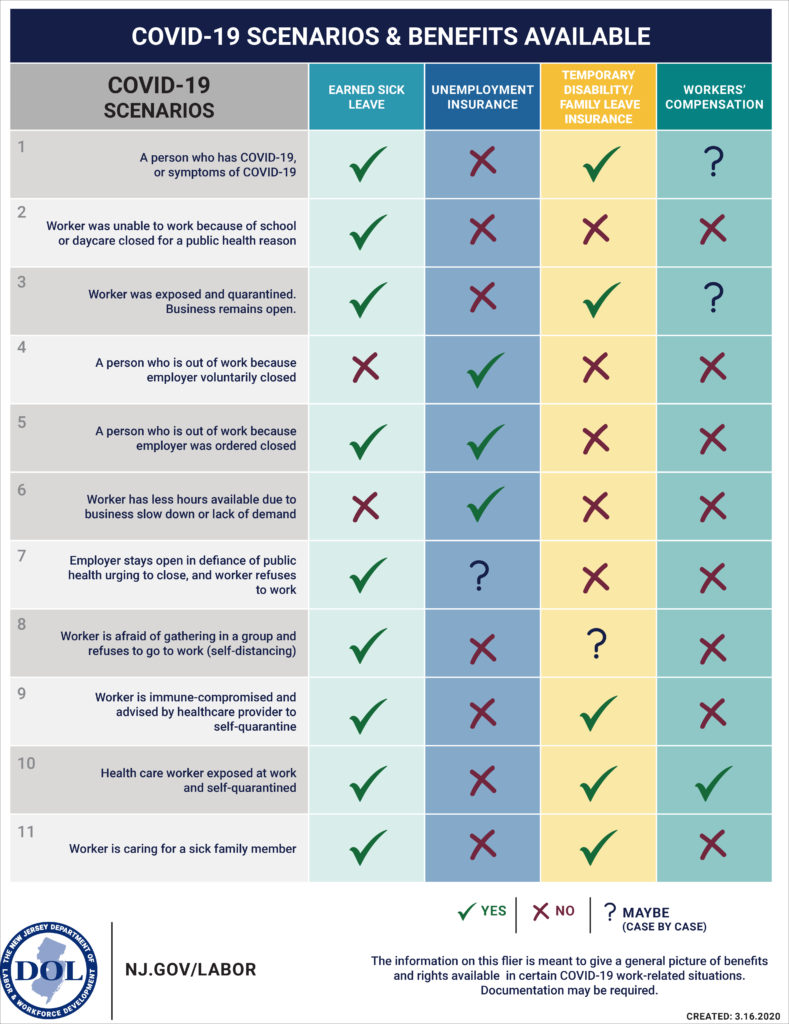 Stay safe. Stay healthy. The New Jersey State AFL-CIO always has your back.
Oh, and have you washed your hands lately?