State Labor federation thanks NJ elected officials for leadership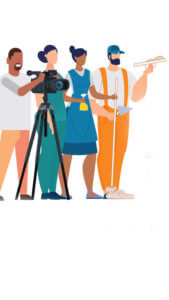 Throughout the COVID-19 pandemic, New Jersey's essential workers have labored on the front lines of health care, police and fire, transportation and shipping, construction, retail and service work – every sector of labor. They cared for the dying who were separated from their loved ones, kept our homes and streets safe, kept store shelves stocked, and cleaned and sanitized nonstop.
Many of them made the ultimate sacrifice.
As America surpasses 500,000 deaths because of the coronavirus, and New Jersey exceeds 23,000, the New Jersey State AFL-CIO pauses to remember and honor them, especially our brothers and sisters on the front lines.
The New Jersey State AFL-CIO also thanks Gov. Phil Murphy and our state Senate and Assembly for their leadership in enacting laws and other measures that have preserved New Jerseyans' health and safety throughout this unprecedented crisis. We respectfully urge our lawmakers to continue to pass laws like A-3998 for COVID victims' survivors to reassure working families that their representatives always have their best interests at heart.
Please take a minute to let your Assembly member know you support A-3998 – COLA for COVID victims' families – by CLICKING HERE.