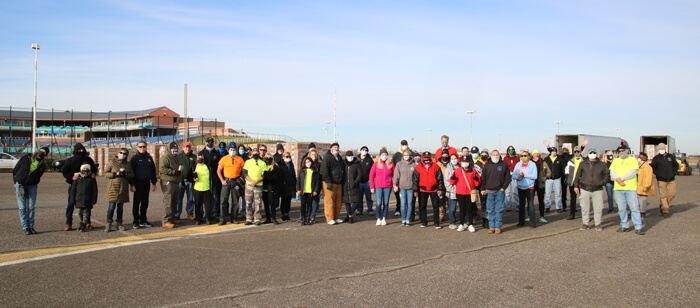 For a Thanksgiving like no other in a city like no other, solidarity brightened what could have been a difficult holiday for thousands of laid-off union brothers and sisters and the Atlantic City community through Operation Feed Atlantic City's Special Holiday Food Distribution.
Click here for a special video and photo gallery.
A week before Americans will take time out to be thankful for family, friends and home, the New Jersey State AFL-CIO and its affiliated unions, the Casino Reinvestment Development Authority and the Community FoodBank of New Jersey delivered turkey dinners, homemade treats and other groceries and staples to ease the food insecurity that has gripped this resort region throughout the pandemic.
"More than 12,000 brothers and sisters in Atlantic City have suffered tremendous hardships for months since COVID shut down the casino industry and left them out of work," Charles Wowkanech, President of the New Jersey State AFL-CIO, said.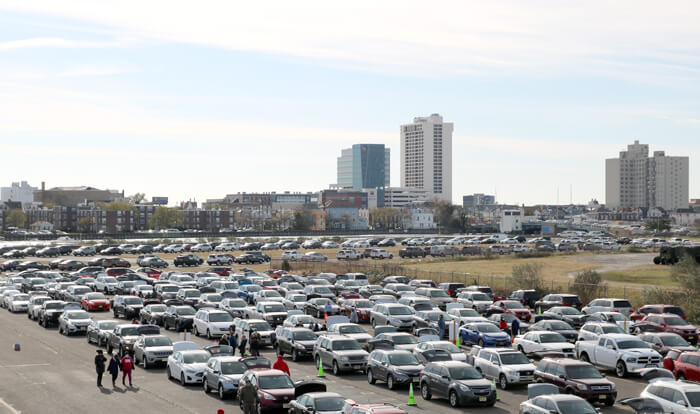 The line of cars that stretched for miles east and west on Route 40 made clear how hard the resort city's economic downturn has hit the community, and how many union brothers and sisters are still in need. Several dozen recipients arrived more than two hours before the 10 a.m. start.
But with the Atlantic City casinos' skyline to the east serving as a glistening beacon of hope, the multi-generational volunteers from IATSE, IUOE, Shore Nurses, UNITE HERE and Atlantic City High School who donated their day and their energy did what they do best: They welcomed more than 3,000 of their union brothers and sisters and families with warmth and good cheer.
"Operation Feed Atlantic City has been a large endeavor going back to March," President Wowkanech said, recalling the 11 previous regular food distributions at Bader Field. "During this pandemic, this has been a very rewarding experience. Working with the volunteers – and so many of them have been here since the spring – I got to see close-up just how efficient and dedicated they are," he said with admiration.
Operation Feed Atlantic City gave a hand up to brothers and sisters in need every two weeks starting in spring 2020 amid the coronavirus surge, delivering more than 2 million pounds of food to date.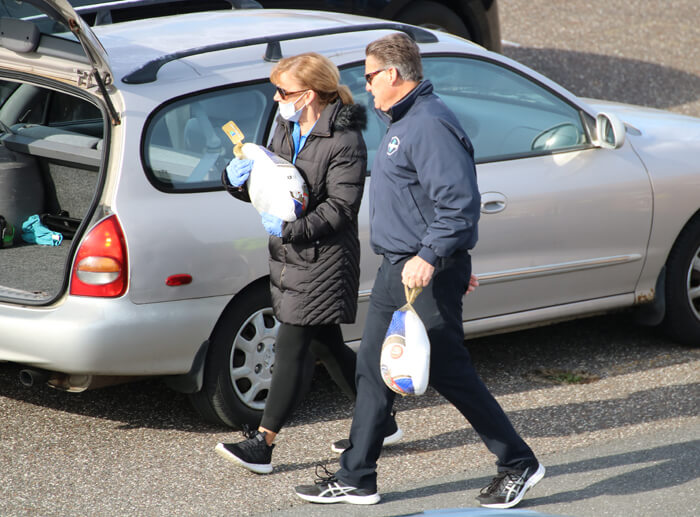 "In the spirit of the season, the New Jersey State AFL-CIO again partnered with business and government to combine our resources and help our members and the Atlantic City community keep food on their tables and give them the knowledge that the New Jersey State AFL-CIO and our entire Labor Movement will always care about them," President Wowkanech said. "We wanted to give these families some extra hope and dignity by making the holidays brighter."
Operation Feed Atlantic City has a second Special Holiday Food Distribution scheduled for Thursday, December 17.
On behalf of our brothers and sisters who will now be able to celebrate a wonderful Thanksgiving, thank you.