Union brothers and sisters in Atlantic City lend a hand up, with smiles and energy
Though the clouds masked the sunshine, the social-distancing face coverings could not mask the smiles of union brothers and sisters who volunteered their time, energy and elbow grease to serve fellow union members and Atlantic City residents in need at a food distribution on Thursday, May 28.
The compassion and solidarity shone through, even when the sun didn't, as the food distribution sponsored by the New Jersey State AFL-CIO and its affiliated unions, the Casino Reinvestment Development Authority and the Community FoodBank of New Jersey delivered emergency food kits, fruits and vegetables and, for the first time, union-made baked goods to hundreds of visitors to Bader Field in Atlantic City. Something for every meal of the day was supplied.
The Bakery Confectionery Tobacco and Grain Millers International Union delivered three truckloads of rolls and breads, cereals and nutritious snacks that were donated by Kellogg's and Bimbo Baking, and which were picked up over a two-day stretch throughout the eastern half of Pennsylvania just for this event. BCTGM connected with the New Jersey State AFL-CIO as part of its nationwide commitment to assist brothers and sisters in need.
Report continues after photo gallery…
"They know people are hurting because of all the casino industry shutdowns, and here they are with fresh rolls and bread and cereal, things everyone wants to have. We can't thank them enough."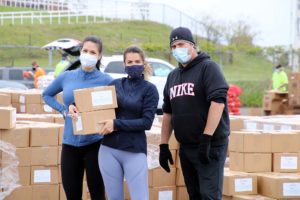 The well-organized distribution followed all health guidelines, as families – sometimes several families per car – popped their car trunks or hatches and volunteers from unions representing every sector of labor from Atlantic City and the nearby region hefted the meal kits, the produce and the baked goods into the cars for them.
Father Andrew Pham from Atlantic City's Catholic Parish of St. Monica blessed the food, the volunteers and the people in need, and prayed for a swift and safe end to this crisis.
The COVID-19-related shutdown of the Atlantic City casino industry has left the region one of the hardest-hit areas in the country. The New Jersey State AFL-CIO and its affiliates, the CRDA and the FoodBank are sponsoring these distributions as a hand up, not a handout, to reduce food insecurity among people who were thrown out of work through no fault of their own.