"I love people; I love my union brothers and sisters; I love the members of our community, and it's a scary time for all of them."
That's why UNITE HERE Local 54 sister Cate Dziegrenuk continues to volunteer at the Operation Feed Atlantic City food distributions sponsored by the New Jersey State AFL-CIO and its affiliated unions, the New Jersey Casino Reinvestment Development Authority and the Community FoodBank of New Jersey.
Operation Feed Atlantic City July 9, 2020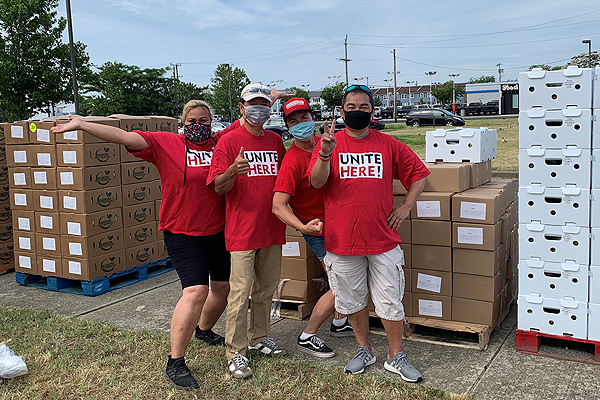 Hundreds of displaced casino industry workers and other members of the Atlantic City community visited the food distribution at Bader Field Thursday, July 9, to receive 2,250 meals. The event followed the disappointing Independence Day weekend when hopes were high that indoor dining would return to New Jersey's resort city. Unfortunately, the number of coronavirus cases kept those doors shut.
"People are still responsible for their bills, rent, mortgage," Cate said. "So, they can come here to get good food and have one less thing to worry about.
"Why wouldn't I volunteer?" the banquet server continued. "It's something I can do to help. And it's a way to show that I'm grateful for all our donors."
When Marshall Sweeten, a longtime brother with IATSE Local 917, loads boxes of food or bags of produce into a visitor's car, he also takes a moment to greet the driver and passengers.
"I'm interested in the one-on-one," Marshall said. "I try to continue the one-on-one with every car, to let the people know we still care for them, that we're here for them. We're giving them items that maybe they can't afford," he said, agreeing that his friendly spirit also raises their morale and boosts their dignity.
Having his IATSE family alongside him at Bader Field is great, too: "I miss the rapport" when we're not together working, the entertainment electrician said. Like Marshall, many union members and their families have lent a hand at every food distribution since they started in the late spring.
IUOE Local 68 members like Alejandro Arboleda, in their colors and face coverings like all the volunteers, checked in the recipients and let the helpers at the food stations farther up the lanes know how many families were in each vehicle. Carpooling was encouraged, so Local 68's organizational skills ensured that the right numbers of food kits were loaded each time. IUOE brothers and sisters have mastered this critical task with efficiency and friendliness since the first food distribution.
"I've been affected by this shutdown myself," Alejandro said, "so I know what they're going through." The general maintenance mechanic, who came up through the apprenticeship program, continued, "It's my way to give back. I introduce myself when we check the families in, and people feel welcome."
The New Jersey State AFL-CIO expresses our deepest thanks to our union brothers and sisters and their families for their hard work and continuing solidarity on Thursday. Our labor values are uplifting working families every day.
The New Jersey State AFL-CIO also expresses our gratitude to our donors, who make it possible to continue these union-led food distributions. We want our brothers and sisters to know we are there for them as long as the need remains, so in the spirit of solidarity, please be generous.
Please make checks payable to our 501(c)(3) account.
New Jersey State AFL-CIO Community Services Agency Inc.
106 West State Street
Trenton, NJ 08608