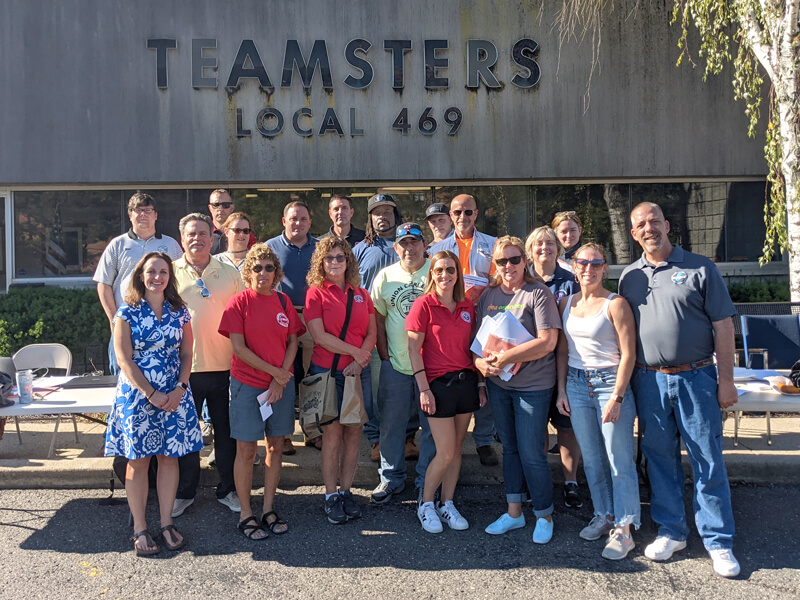 Labor Candidates garnered the support of brothers and sisters from New Jersey State AFL-CIO-affiliated unions in all sectors of labor on Saturday, September 11. Men and women from the Eastern Atlantic Regional Council of Carpenters, CWA, IBEW, Teamsters, UA and other unions dedicated their morning to get out the word about pro-labor candidates in this year's election.
Labor Candidates for the 13th Legislative District Vincent Solomeno, CWA 1033, and Allison Friedman, CWA 1037, met with the New Jersey State AFL-CIO's COPE team and dedicated union volunteers at Teamsters Local 469 in Hazlet. The Labor volunteers then distributed flyers supporting Gov. Phil Murphy, Lt. Gov. Sheila Oliver, and our labor-endorsed candidates for state, county and local elected offices. This Labor Walk was coordinated by the Monmouth/Ocean Central Labor Council, and was the first of dozens scheduled between now and November 2.
Please join us in solidarity as Labor Walks continue statewide every Saturday morning through Election Day. Come and meet our Labor Candidates and cheer them on. With Vote-by-Mail ballots already on their way to thousands of voters, and Early Voting starting on October 23, we must spread our message quickly and effectively. We must make sure our voice is heard!
You can see a full calendar of Labor Walks at https://njaflcio.org/labor-walks/
Labor Walks scheduled for Saturday, September 18, from 9 a.m. to noon, are:
Atlantic/Cape May CLC Labor Walk
IBT 331
1 Philadelpia Ave, Egg Harbor City
Contact Roy Foster (609) 704-8351
Hudson CLC Labor Walk
MEBA D-1
37 Edward Hart Drive, Jersey City
Contact Barry Kushnir (201) 344-7353
Middlesex/Somerset CLC Labor Walk
IBEW 456
1295 Livingston Ave., North Brunswick
Contact Wayne Martiak (908) 415-8594
Monmouth/Ocean CLC Labor Walk
IBT 469
Contact Wyatt Earp (732) 773-9480
Monmouth/Ocean CLC Labor Walk
IBEW 400
Contact Wyatt Earp (732) 773-9480
Southern CLC Camden County Labor Walk
Garden State Pavilion
2240-15 Route 70 West, Cherry Hill
Contact Bob Schiavinato (609) 314-6489
Southern CLC Gloucester County Labor Walk
Contact Bob Schiavinato (609) 314-6489