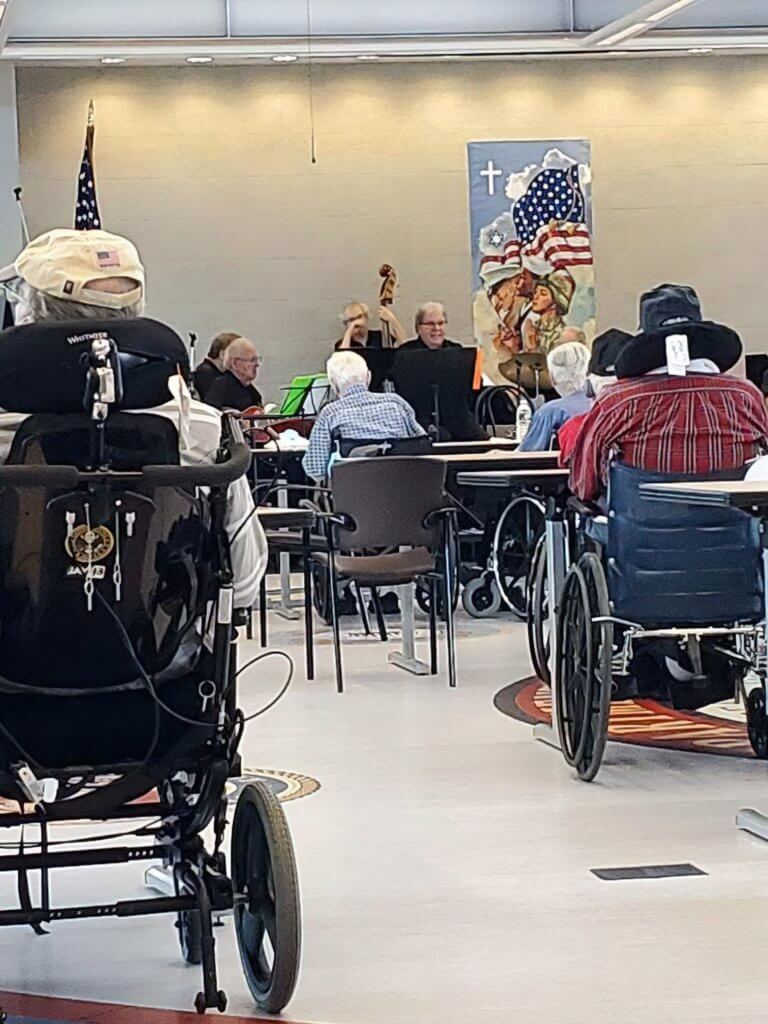 A Concert to Honor New Jersey's Veterans was performed at the New Jersey Memorial Home for Veterans in Paramus on Friday, July 23, by members of Local 16-248 of the American Federation of Musicians. The free concert was sponsored by the New Jersey State AFL-CIO and its Union Veterans Council, the Bergen County Central Labor Council, the Passaic County Central Labor Council and the Musicians Union.
If music hath charms, as the saying goes, then the residents were charmed and thrilled as the nostalgic and patriotic songs lifted their spirits after a year and a half of the coronavirus pandemic. The comfortable accommodations and the summertime refreshments generously donated by the two Central Labor Councils added to the veterans' enjoyment.
The Musicians Union used money from a special Musicians Performance Trust Fund grant to pay the performers and defray other expenses. Through this grant, they are providing the gift of music to America's heroes.
The concert was part of the New Jersey State AFL-CIO Union Veterans Council's continuing mission to enhance the lives of former members of the armed forces. The Council assists returning service men and women transition to civilian life and into good union jobs, and honors retired veterans through service projects, memorial activities and events like Friday's concert.
Veterans of all branches of the armed forces who are union members or interested in union membership are invited to contact the New Jersey State AFL-CIO Union Veterans Council, 106 West State St., Trenton NJ 08608 or zebec13@aol.com.