We honor a great supporter of Democracy and Labor:
Dr. Martin Luther King Jr.
January 15, 1929 – April 4, 1968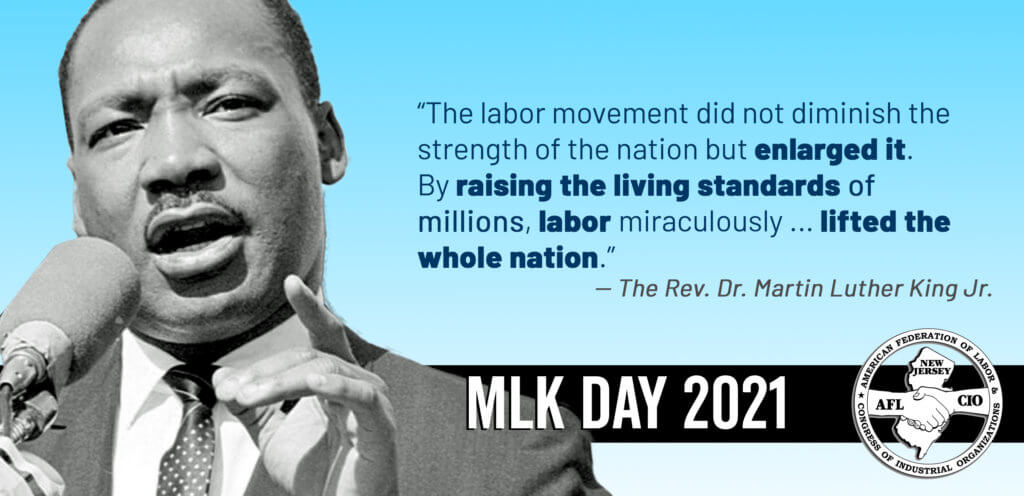 The Rev. Dr. Martin Luther King Jr. was defending the right of public employees to organize labor unions in Memphis, Tennessee, when his life was stolen from him by an assassin's bullet. His support for AFSCME sanitation workers in Memphis in April 1968 was another milestone in his tireless activism that equated labor rights with civil rights.
Dr. King's most-quoted speech – "I Have a Dream" – was delivered during the 1963 March on Washington for Jobs and Freedom. That was no coincidence.
Jobs and freedom. Fair pay and fair benefits. Work that provides dignity. Respect for diversity. These are the core values of our Labor Movement. These are the values of the ongoing Civil Rights Movement. These are the values that built our American Democracy. These are the values that Dr. King stood for, and all who follow him still stand for.
The tragic and unprecedented events of 2020 made it clear that Dr. King's dream has not yet fully come true. In 2021, as we stand together in solidarity, our labor values will lift our cherished democracy to the heights that Dr. King dreamed for America. Today, the New Jersey State AFL-CIO joins our nation in honoring the legacy of the Rev. Dr. Martin Luther King.
"Whenever you are engaged in work
that serves humanity and is for the building of humanity,
it has dignity and it has worth."
—The Rev. Dr. Martin Luther King Jr.
to the AFSCME Memphis Sanitation Strike, April 3, 1968