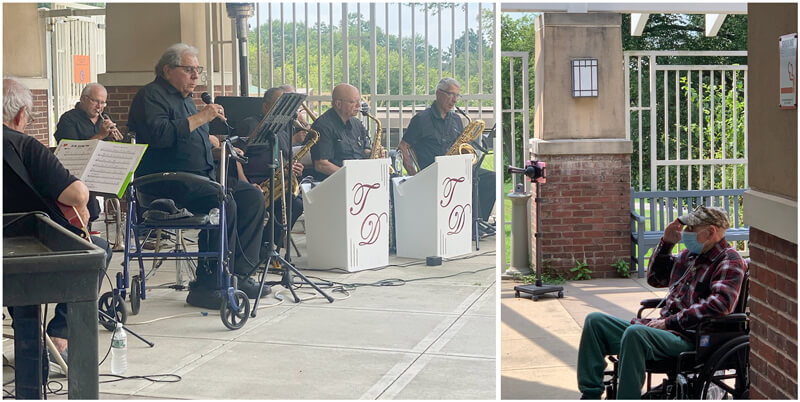 A Concert to Honor New Jersey's Veterans was performed at the New Jersey Memorial Home for Veterans in the Menlo Park section of Edison on Wednesday, July 28, by members of Local 16-248 of the American Federation of Musicians. The free concert was co-sponsored by the New Jersey State AFL-CIO and its Union Veterans Council, the Middlesex/Somerset Central Labor Council and AFM Local 16-248.
This concert, the second of two salutes to New Jersey's heroes at state veterans homes, was funded by a special Musicians Performance Trust Fund grant to pay the performers and defray other expenses. This generous grant from the Fund enabled the musicians to uplift the veterans' spirits after a year and a half of the coronavirus pandemic.
"Our veterans defended and preserved our American freedoms, and we are extremely proud and grateful for their service," New Jersey State AFL-CIO President Charles Wowkanech said. "This has been a difficult year and a half, and COVID took a terrible toll on the residents. We hope that today's concert lets our heroes know that we stand with them every day."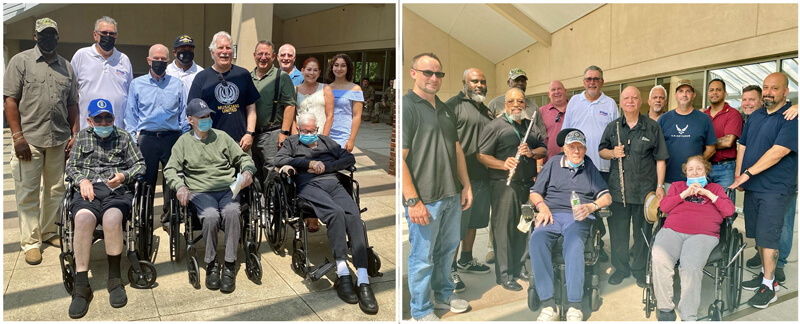 "We are thankful to the Musicians Union for their time and talent, and for seeking out this grant to make this concert, and the one last week in Paramus, a reality," New Jersey State AFL-CIO Secretary-Treasurer Laurel Brennan said. "We owe our veterans a huge debt, and we are grateful that our Union Veterans Council, our Middlesex/Somerset Central Labor Council and our musicians were able to bring a bit of summer sunshine to them."
The two concerts were part of the Council's continuing mission to enhance the lives of former members of the armed forces. The Council assists returning service men and women transition to civilian life and into good union jobs, and honors retired veterans through service projects, memorial activities and entertainment events.
Veterans of all branches of the armed forces who are union members or interested in union membership are invited to contact the New Jersey State AFL-CIO Union Veterans Council, 106 West State St., Trenton NJ 08608 or zebec13@aol.com.