March 31, 2020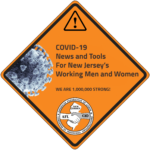 As union sisters and brothers work on the front lines of every labor sector, battling the global pandemic in New Jersey and across America, the New Jersey State AFL-CIO is feverishly advocating in the state and federal administrations for union members. We urge everyone to stay safe and healthy.
New guidance from New Jersey
The New Jersey State Department of Labor today issued the chart below to help guide you through the new federal benefits that add to your state benefits.
PLEASE NOTE: If you are unsure which benefits to apply for, start with Unemployment Insurance.
For a downloadable version of this chart, CLICK HERE.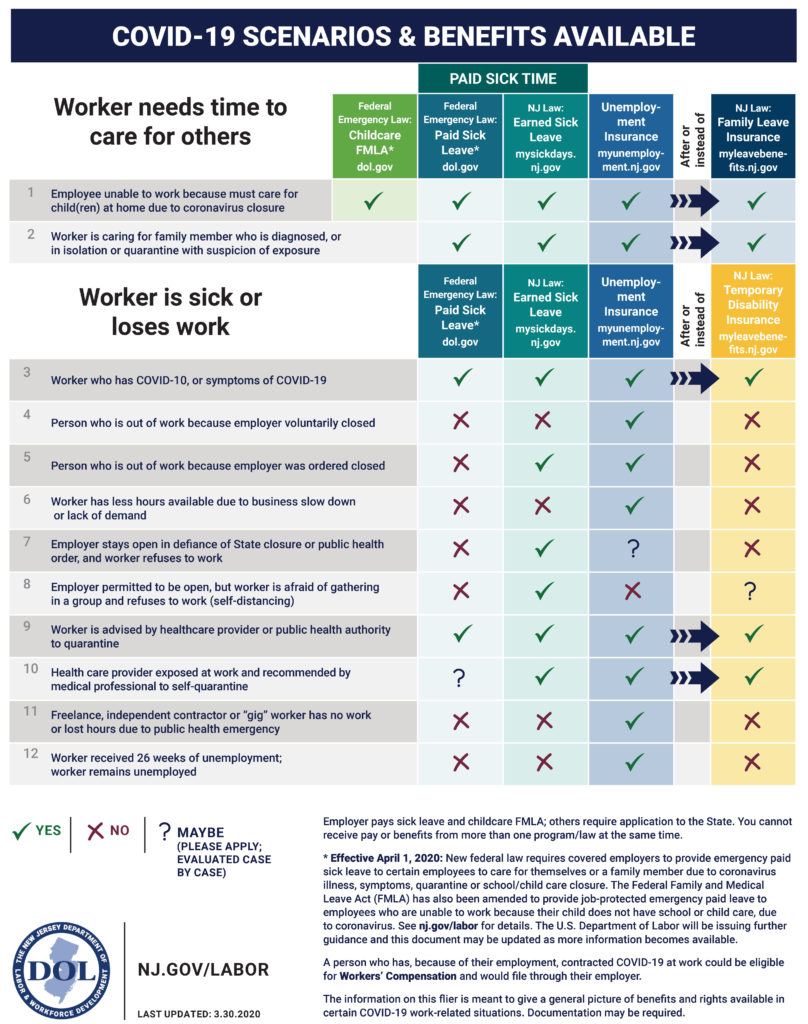 Testing continues, with restrictions, as new sites open
COVID-19 Testing Centers are opening regularly across New Jersey as test kits become available and as county and municipal health departments gear up.
PNC and Bergen County centers are operated by the Federal Emergency Management Agency and are first-come, first-served for any people with symptoms.
In most cases, county or city test centers are for local residents only. First responders are welcome at most testing centers, and some centers have scheduled first-responder-only test days. To be tested, you must have a prescription from a medical professional, have COVID-19 symptoms of high fever, deep cough and shortness of breath, and make an appointment. Call your local health department to learn more.
CLICK HERE for regularly updated details on the New Jersey testing sites. Or call 2-1-1 for the hotline.
PNC Bank Arts Center (run by FEMA)
This week, the PNC Bank Arts Center site will be open:
Wednesday, April 1
Saturday, April 4 (first responders only)
Bergen County Community College (run by FEMA)
This week, the Bergen site will be open:
Thursday, April 2
Friday, April 3
Burlington County Emergency Services Training Center
Burlington County residents by appointment only
Cumberland County/Vineland/CompleteCare Health Network Drive-Thru Site
Opening soon
Cumberland County residents and CompleteCare Health Network patients by appointment only
Essex County Weequahic Park, Newark, Drive-Thru Site
Essex County residents only on Mondays, Wednesday and Fridays. www.EssexCOVID.org,
Ocean County College
Ocean County residents by appointment only
Jersey City Drive-Thru Testing
Jersey City residents by appointment only, with proof of residency
Jersey City Walk-Up Testing
Jersey City residents by appointment only, with proof of residency. Call 201-547-5535
Hudson Regional Hospital
Hudson County residents and first responders by appointment only
Kean University
Union County residents, first responders and essential personnel, by appointment only with a prescription
Mercer County at Quakerbridge Mall
Mercer County residents by appointment only
Morris County
Morris County residents by appointment only
William Paterson University
Passaic County residents by appointment only
More New Jersey business can open
More businesses are allowed to open and more business activities can operate under Gov. Phil Murphy's executive orders, the Murphy administration has announced. They include:
Individual appointments to view real estate with agents. Open houses are still forbidden.
Online or remote sales of vehicles. If somebody buys a car this way, the dealer must deliver it to the buyer, to curbside, or through the dealer's service department.
Sales of firearms. Firearms retailers may operate by appointment only and during limited hours. All firearms sales must be transacted in person. The NICS background check system is up and running.
Still closed:
Golf courses, both public and private clubs. They fall under the category of recreational and entertainment businesses.
But Motor Vehicle facilities will be shut a bit longer
All New Jersey Motor Vehicle Commission agencies, inspection centers and road-test sites will remain closed to the public through April 12. The MVC is handling online transactions as usual, including those that support commercial trucking.
Drivers who are seeking federal REAL ID licenses now have until October 2021 to get them.
Drug hoarding is forbidden
Demand for hydroxychloroquine and chloroquine, prescription drugs used to treat malaria and certain chronic inflammatory conditions like lupus and rheumatoid arthritis, has increased nationwide following reports that the drugs are being tested as possible treatments for COVID-19.
Reports also have indicated that many medical professionals – including those who authorities say would not be typical prescribers of these drugs – have been writing large prescriptions, leaving many pharmacies out of stock and back-ordered.
To reduce the risk of a shortage, the New Jersey Division of Consumer Affairs, under the direction of Attorney General Gurbir S. Grewal, has placed statewide restrictions on such prescriptions and drug distribution.
Prescriptions must show a patient typically uses these – and similar – drugs for chronic conditions, based on that patient's history. Also, the prescribing professional should be someone who normally would prescribe these drugs, meaning that dentists and veterinarians, for example, should not be prescribing drugs designed to treat COVID-19. Pharmacists have been advised to turn down prescriptions like these.
If a patient has COVID-19 symptoms and has tested positive, and the doctor wants to prescribe hydroxychloroquine or chloroquine, the prescription must verify that the patient has COVID-19. Only a 14-day supply will be given out, with no refills.
He Said It

"We've given no thought to changing that for the time being." – Gov. Phil Murphy, on whether New Jersey would end its rule banning self-serve gasoline.
We Will Get Through This!
Let's continue to support each other in every way we can, but keeping our social distance. Our shared union values, our unity and our creativity will bring us back Union Strong!