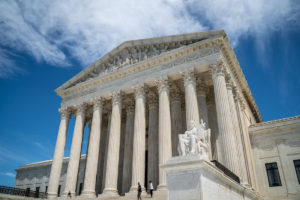 The New Jersey State AFL-CIO praises the U.S. Supreme Court's ruling on Deferred Action for Childhood Arrivals (DACA), undoing President Trump's 2017 decision to shut down the program that allows young immigrants to live and work in America. Dreamers can now continue making their huge contributions to our state, our nation and our economy without fear of deportation.
We acknowledge the essential work these young people have been doing on the front lines during the coronavirus pandemic that hit New Jersey especially hard, and we are grateful. Dreamers deserve fair wages and workplace protections like all other workers. The labor movement will advocate on their behalf to help them achieve their American Dream.
With the Supreme Court's ruling, we have a foothold toward ensuring that young people brought to America by their parents in the hopes of a better life have rights, dignity and freedom from discrimination, regardless of race or where they were born.
The next step is sensible and comprehensive immigration reform. Our labor movement will continue to seek fairness for people who come to America with a dream.