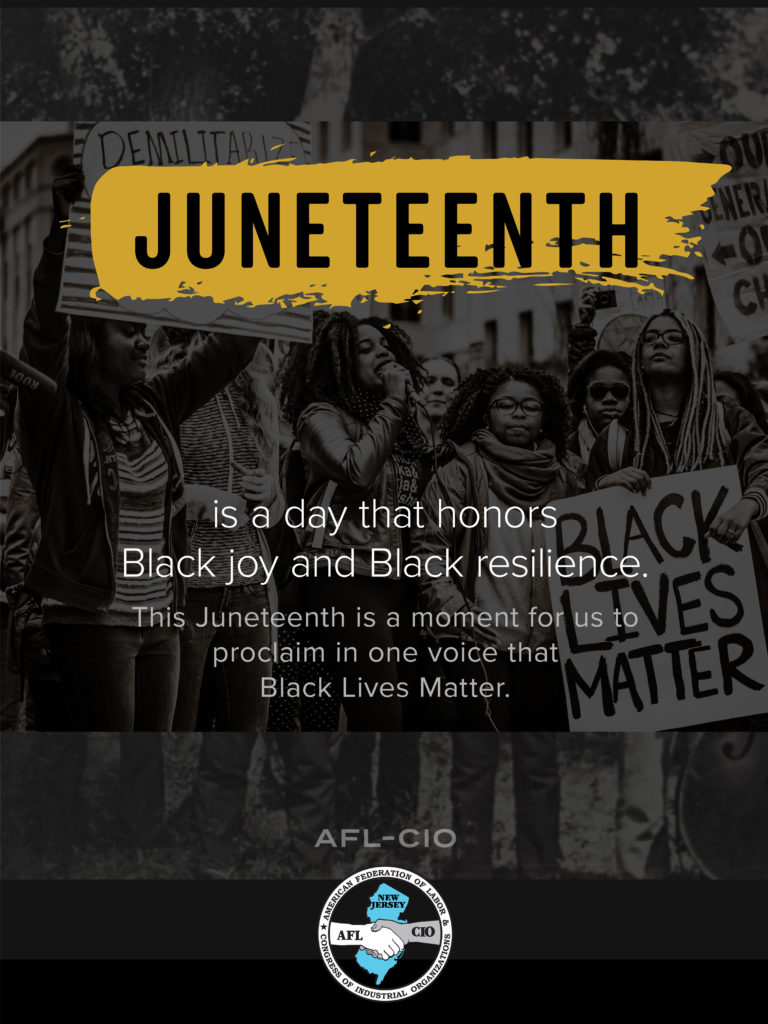 On this Juneteenth, symbolically marking 155 years since slavery ended in America, we must reflect on this ugly period in our history and educate for the future. Slavery is over, but the evils of prejudice and systemic racism continue to grow.
Our labor movement values each individual while uniting for the good of everyone. When one person is treated unjustly, we all are. Labor rights are civil rights.
On this Juneteenth — June 19, 2020 — our labor movement is meeting the challenges to guarantee equality for everyone. We join in caravans to urge the U.S. Senate to pass the HEROES Act. We march with peaceful protesters who are still in the streets, and collectively we will ensure that Black Lives Matter.
And we fight to improve working conditions and wages for essential frontline workers – often people of color – who are hit hardest by the pandemic.
The New Jersey State AFL-CIO's mission is to improve the lives of working families, to bring economic justice to the workplace and social justice to the community. We dedicate ourselves to bringing dignity and fairness to all working people and securing social equity in New Jersey and the nation, without regard to race, creed, color, sex, national origin, age, disability or sexual orientation.
Systemic racism and prejudice have no place in our workplaces, our communities and our society.