On Thursday, May 19th, the New Jersey State AFL-CIO and Lawrence Ben of RWDSU testified before the Assembly Community Development & Affairs Committee on the health and wellbeing of warehouse workers at Amazon.
A recent report from Rutgers University and New Jersey Policy Perspective showed that the overall injury rate at Amazon's warehouses increased by 54% in 2021 from the previous year. According to the Strategic Organizing Center, nationally, the serious injury rate among Amazon workers in 2021 was 88% higher than the serious injury rate compared to similar employers.
One of the primary objectives of our organization and of our affiliated unions is to advocate for laws and regulations to ensure a safe and healthy workplace. From recent COVID laws, to workers compensation reform, to fighting against occupational diseases and workplace violence, to protecting and strengthening OSHA, to best practices in workplace safety operations, the New Jersey State AFL-CIO and its affiliated unions prioritize advancing workplace safety policies on a daily basis.
What we would like to accomplish is simple – progress on worker safety in warehousing and retail operations throughout New Jersey. After the headlines dissipate, workers will still be facing similar unsafe conditions at Amazon and other retailers. We hope this committee will make worker safety a priority in the long term and work towards passage of state level legislation to achieve this.
To read the full testimony submitted to the committee, see here: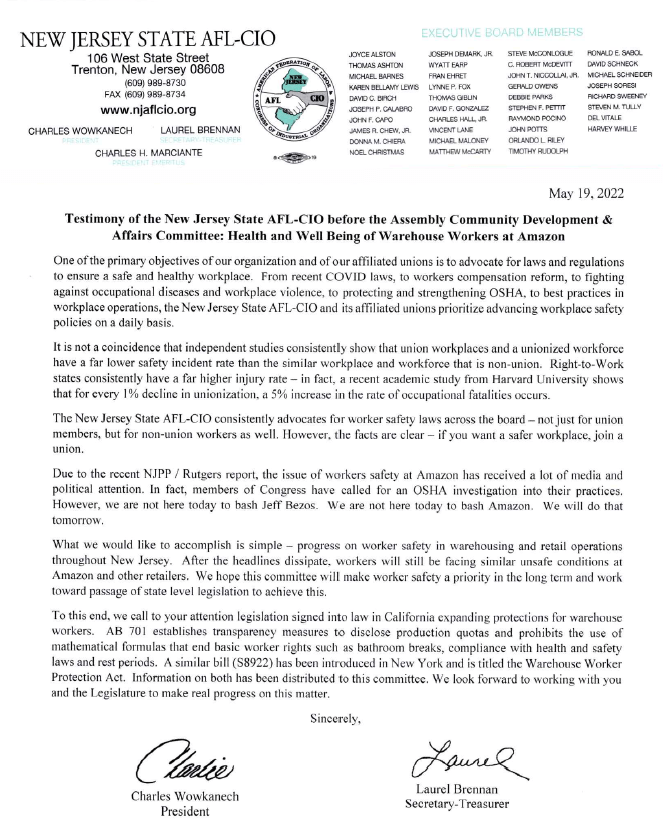 New Jersey State AFL-CIO Supports Three Bills Approved by the Assembly Labor Committee:
A-1474 (Lopez/ Danielsen) Provides certain protections and rights for temporary laborers.
A-2208 (Greenwald, Verrelli) Includes duct cleaning as maintenance work subject to the prevailing wage law.
A-3715 (Moriarty, Wimberly) Limits certain provisions in restrictive covenants and limits enforceability of restrictive covenants.
A-1474 (Lopez/ Danielsen) was released today along party lines from the Assembly Labor Committee with Democrats voting in favor and Republican voting against the bill. Voting in favor were Chairman Egan (D-4), Vice-Chair Verrelli (D-15), Assemblyman Atkins (D-20), Assemblyman Moriarty (D-4), Assemblyman Sampson (D-31), and Assemblywoman Sumter (D-35). Opposing the bill were Assemblyman Catalano (R-10), Assemblyman Space (R-24) and Assemblywoman Swift (R-2).
The bill provides protections to temporary laborers and imposes requirements on temporary help service firms and their third party clients. The bill helps strengthen worker protections by improving accountability for terms of temporary employment and allows third party clients to hire temporary workers for permanent positions.
The New Jersey State AFL-CIO thanks Assemblywoman Lopez, Assemblyman Danielsen, and Assemblywoman Carter for sponsoring this legislation.
Also today, the Assembly Labor Committee unanimously released A-2208 (Greenwald/ Verrelli), supported by the New Jersey State AFL-CIO. We thank Majority Leader Greenwald and Assemblyman Verrelli for sponsoring the bill, in addition to Assembly Labor Committee Chairman Egan for posting and sponsoring the bill.
A-2208 includes duct cleaning as maintenance work subject to the prevailing wage law. The bill is intended to level the playing field for the building trades to compete for contracts for duct cleaning maintenance work.
We support the Labor Committee moving A-3715 (Moriarty/ Wimberly) forward in the legislative process, and greatly appreciate the sponsors working to address the negative impact of restrictive covenant clauses on workers. Workers should be able to advance their careers and work for who they want without being subject to unfair restrictive covenants.
A-3715 was approved in a party line vote, with Democrats voting in favor, and Republicans opposed.
The New Jersey State AFL-CIO would like to thank the affiliate unions who advocated in support of these bills, as well as the Assemblymembers who voted in favor of them today in committee. The working women and men of the New Jersey State AFL-CIO appreciate your support.