Today in the State House
The New Jersey State AFL-CIO thanks the New Jersey State Assembly and Speaker Craig J. Coughlin for passing the pro-labor A-3999/S-2380 and sending it to Gov. Phil Murphy to sign into law. The state labor federation also thanks and commends our many affiliates who advocated tirelessly for this bill's passage, as well as the bill's prime sponsors.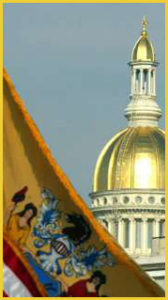 A-3999 (Giblin / Burzichelli / Murphy / Downey), as amended, was passed by the Assembly by a 41-27-7 mostly party-line vote on Thursday, July 30, with eight Democrats voting against or abstaining.
Click here for the full roll call of votes.
It reforms the Workers Compensation System to give essential employees who come in contact with the public at their workplace the "presumption" that, if they contract the coronavirus, it happened on the job.
This fundamental reform to the Workers Compensation System applies only to COVID-19 victims, and its "presumption" standard is "rebuttable" by either the employer or the insurance company. This means that, at any time, they can still appeal a Workers Compensation determination if they find the virus was contracted somewhere other than the workplace and have their case heard before a Workers Compensation judge.
The Senate version – S-2380 (Sweeney / Scutari / Singer / Greenstein) – passed in May with bipartisan support. It was amended to match A-3999 by a 27-12 vote.
In other labor-related action:
The New Jersey State AFL-CIO thanks the state Senate for passing S-2596 and S-2602 (both Ruiz / Cruz-Perez), which would greatly improve the safety and health of farm workers in New Jersey.
S-2596 would allot $5 million from federal CARES Act funds for personal protective equipment and other safety gear for farm workers. It passed 36-1.
S-2602 would designate farm workers as a group at high risk of virus infection and increase the detection and prevention of COVID-19 among them. It passed 37-1.
Both bills go to the Assembly. The New Jersey State AFL-CIO supports this legislation.