Operation Feed Atlantic City Sept. 3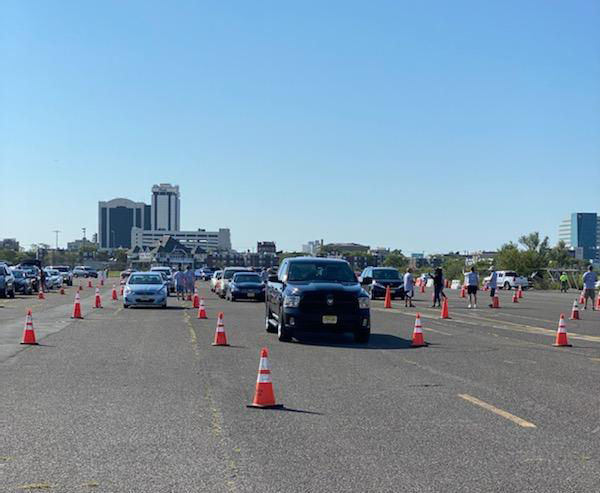 For the eighth time in 16 weeks, laid-off unionized casino industry workers volunteered their day and their sweat to help distribute food kits to their fellow workers and the Atlantic City community.
"It's a great testament to solidarity, to trade unionism and the bonds shared among organized labor members," New Jersey State AFL-CIO President Charles Wowkanech said of the energetic and cheerful members of IATSE, IUOE, Shore Nurses/NYSNA and UNITE-HERE as the Operation Feed Atlantic City food-distribution program continued on Thursday, Sept. 3. "These brothers and sisters who themselves are in need have been here at every one of these distributions. I can't say enough good things about them."
Ever since the coronavirus pandemic crippled the Shore casino industry and its many related businesses, the New Jersey State AFL-CIO and its affiliated unions, the New Jersey Casino Reinvestment Development Agency and the Community FoodBank of New Jersey have regularly offered 2,250 meal kits and produce – and dignity, solidarity and hope – to laid-off union members and the Atlantic City community.
"In any other year, on a day like this," President Wowkanech said at the sun-drenched Bader Field, "all of these people would be working. Labor Day weekend at the Shore and the casinos. Normally, Atlantic City would be crowded with vacationers.
"Instead, this Labor Day, our Labor Movement is standing with our brothers and sisters in need. Because together, we succeed," he said.
As they have since the casino shutdown left them without work, dozens of union members from IATSE, IUOE and UNITE-HERE donated their day to load the precious foodstuffs and share a good word or two with the visitors. Also joining the ranks of the volunteers on Thursday were members of the Shore Nurses Union/NYSNA. Lisa Ruiz, speaking for the union, explained that many Shore Nurses' spouses, partners and family members are among the 15,000 workers hit hard by the shutdown.
The New Jersey State AFL-CIO intends to continue these union-led food distributions as long as the need remains. We want our brothers and sisters to know we are there for them, so in the spirit of solidarity, please be generous.
Please make checks payable to our 501(c)(3) account.
New Jersey State AFL-CIO Community Services Agency Inc.
106 West State Street
Trenton, NJ 08608