Operation Feed Atlantic City Sept. 17, 2020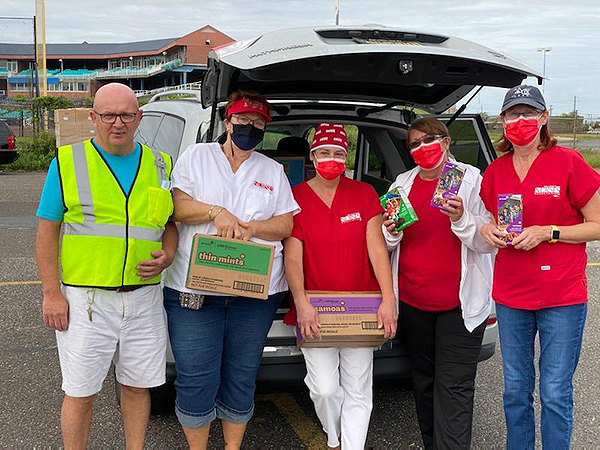 Nurses bring their healing touch with them wherever they go, and members of Shore Nurses/NYSNA added a touch of sweetness to the Operation Feed Atlantic City food-distribution program on Thursday, Sept. 17, with a donation of 500 boxes of Girl Scout cookies that helped heal the spirits of laid-off union members and the Atlantic City community.
Nurses from Shore Medical Center in Somers Point joined other unionized casino industry workers in volunteering their day to help distribute food kits, for the ninth time in 18 weeks.
"We're proud that our unions are part of the largest continuous food-distribution program in the state since the pandemic started," New Jersey State AFL-CIO President Charles Wowkanech said. "We're here because the need is still great. We still have thousands of people out of work, struggling to keep the roof over their heads and food on the table."
Ever since the coronavirus pandemic crippled the Shore casino industry and its many related businesses, the New Jersey State AFL-CIO and its affiliated unions, the New Jersey Casino Reinvestment Development Agency and the Community FoodBank of New Jersey have regularly offered 2,250 meal kits and produce – and dignity, solidarity and hope.
Brothers and sisters from IATSE, IUOE, Shore Nurses/NYSNA and UNITE-HERE – many of them hit by layoffs themselves – loaded the food and shared a smile with the recipients.
"It's heartwarming to see these same dedicated union volunteers returning time after time to help their brothers and sisters keep food in their homes," President Wowkanech said. "This is all about solidarity and our cherished union values."
The New Jersey State AFL-CIO intends to continue these union-led food distributions as long as the need remains. We want our brothers and sisters to know we are there for them, so in the spirit of solidarity, please know your support matters!
Please make checks payable to our 501(c)(3) account.
New Jersey State AFL-CIO Community Services Agency Inc.
106 West State Street
Trenton, NJ 08608