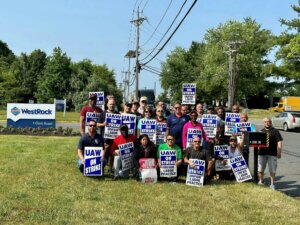 We Need You!
We need you to join the New Jersey State AFL-CIO as we continue to support our UAW Local 2326 brothers and sisters at West Rock LLC. These workers have been on strike for over three months and have been without a contract since December 15, 2022.
Management has been stalling negotiations while at the same time demanding enrollment in a different healthcare plan that has an unaffordable deductible.  Our brothers and sisters are seeking our support during this strike, and we need to stand with them ONE DAY LONGER!
Union:             UAW Local 2326, Region 9
Date:               Thursday, September 7
Time:              1:00 PM
Place:              West Rock LLC
1 Corn Road
Dayton, NJ  08810
Wear your union colors and show your union pride by bringing food and beverages as a donation to the striking workers!