CWA & AFSCME Labor Candidates Get it Done Through Solidarity
The City of Trenton Passes Project Labor Agreement Ordinance
The benefits of electing union members has once again delivered, this time for the members of the building and construction trades in Mercer County.  We commend our union sisters Councilwomen Jenna Figueroa Kettenberg (CWA 1038) and Crystal Feliciano (AFSCME 2286) for spearheading the enactment last week of the project labor agreement ordinance, the first of its kind in the Capital City.
Figueroa Kettenberg, the prime sponsor of the ordinance, is a member of CWA 1038. She was elected to Trenton City Council North Ward in a runoff election in December 2022. That same year, elected to an at-large council seat was Crystal Feliciano, a member of AFSCME 2286 and the second prime sponsor of the PLA ordinance.
"This is a proud moment for all sectors of the labor movement.  Two public sector labor candidates made PLA's a priority in their first year in office, and now the men and women of the building and construction trades will benefit with good union jobs on public works projects in the city" said Charles Wowkanech, President of the New Jersey State AFL-CIO.
Through the labor candidates' program, we put union members at that table resulting in building worker power.
The Mercer County Central Labor Council and Mercer County Building Trades Council worked closely with the City Council to advocate for its enactment.  Mercer CLC President Michael Maloney and Mercer County BTC President Wayne DeAngelo educated members of the council on how PLA's ensure that projects are cost efficient to taxpayers, completed on time and use a highly skilled workforce.
The PLA resolution was unanimously adopted by a 7-0 vote and covers certain public works projects when they are $5 million or larger.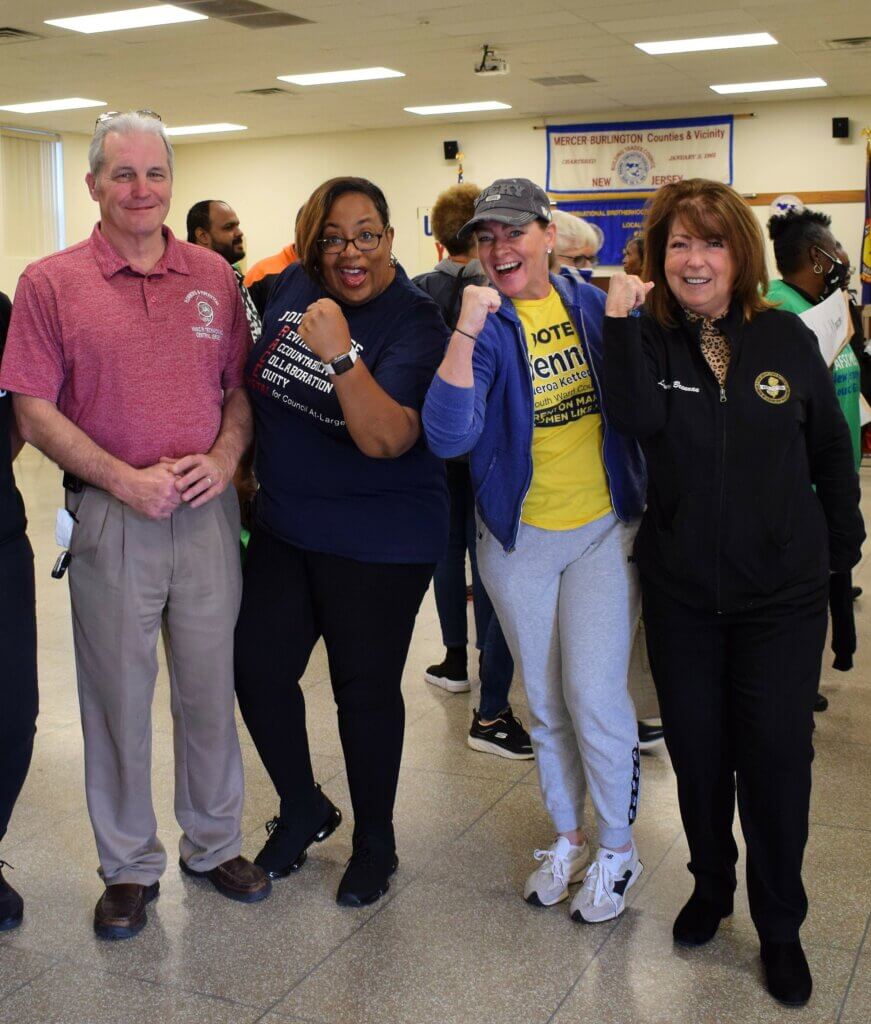 Pictured left to right:
Mercer CLC President Michael Maloney, Councilwoman Crystal Feliciano,
Councilwoman Jenna Figueroa Kettenberg, NJ AFL-CIO Secretary-Treasurer Laurel Brennan