Labor Stands Strong through Operation Feed Atlantic City
[ngg src="galleries" ids="45″ display="basic_imagebrowser"]The news about the pandemic's impact came as a shock in mid-March 2020: Health and safety precautions because of COVID were shutting down the casinos, and tens of thousands of Atlantic City union workers were being laid off with no clear return date.
Hospitality. Entertainment. Support industries. Hard-working men and women whose essential work had kept the New Jersey Shore city sparkling were falling on hard times in a region whose unemployment rate leaped to one of the highest in the country.
But their union brothers and sisters stepped up in solidarity, partnering with business and government to establish Operation Feed Atlantic City, a highly successful food distribution program that provided an average of 2,000 food kits per session from spring 2020 until its final distribution on June 17, 2021.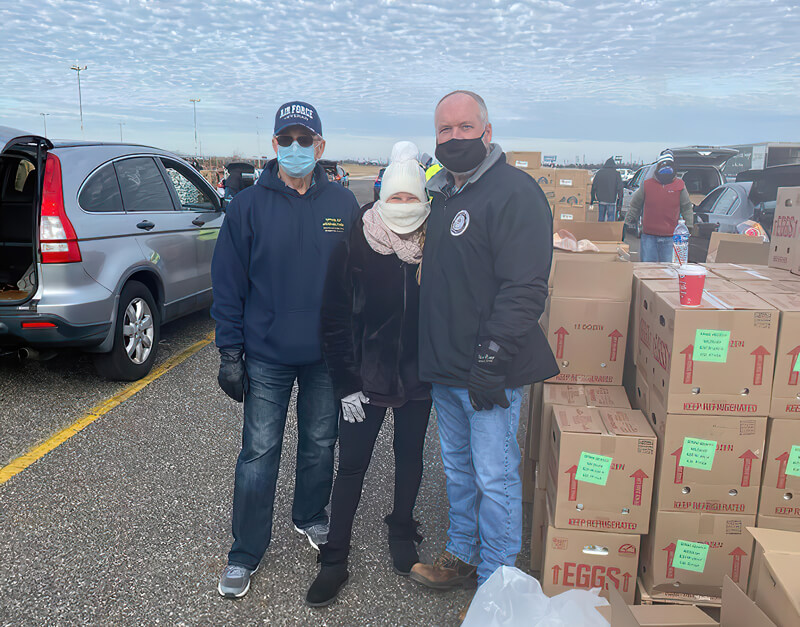 Through sun, rain, snow and freeze, some 45,000 meals totaling almost 4 million pounds of groceries, staples and produce were loaded into trucks, trunks and hatchbacks by union volunteers, many of whom themselves were laid off and in need.
"When COVID first hit, we knew a lot of our brothers and sisters and their families were going to be affected," New Jersey State AFL-CIO President Charles Wowkanech said. "We had to act fast and act collectively so our members could keep food on their tables throughout the crisis."
President Wowkanech rallied a committee of labor leaders to raise funds and organize the staffing needed for what turned out to be a massive 15-month project. The New Jersey State AFL-CIO's affiliated unions throughout New Jersey donated generously, and the Community FoodBank of New Jersey and the New Jersey Casino Reinvestment Development Authority lent their expertise in running food distribution events.
The first distribution, on a retired airport west of the Boardwalk and its shuttered casinos, made clear how large the need was. Some cars lined up at 5 a.m. for the 10 o'clock start. Traffic spilled onto the highway for several miles in both directions.

"Every two weeks after that," President Wowkanech said, "the union members in need from the casinos and related industries would arrive to get the food, along with other members of the Atlantic City community. They were served with solidarity and smiles with volunteers from UNITE HERE 54, IATSE 917, Operating Engineers 68 and NYSNA/Shore Nurses, who made it run like clockwork."
As the pandemic dragged on for more than a year, Operation Feed Atlantic City was enhanced by a visit from BCTGM's Feeding America caravan of tons of union-made bread, cereals, cakes and baked snacks. Girl Scout cookies supplied by the nurses brightened children's days.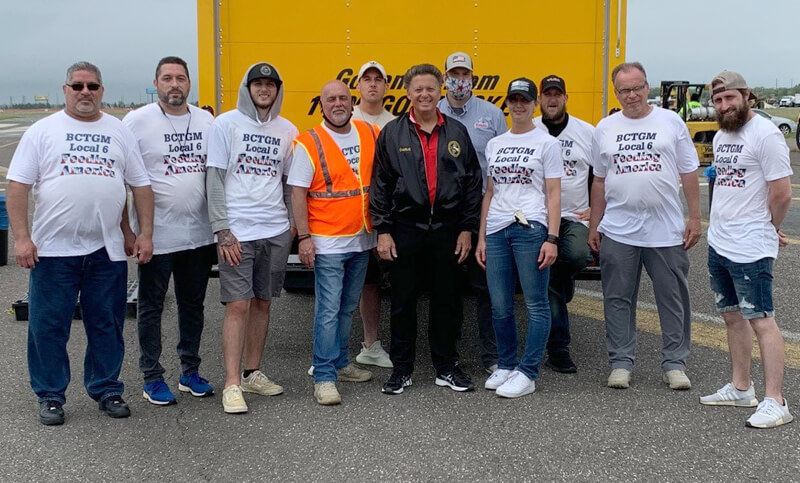 The crescendo came at Thanksgiving and Christmas, when the New Jersey State AFL-CIO, its affiliated unions and their partners provided turkeys and all the trimmings so that hard-hit families could have festive holiday meals besides the regular food kits.
And so they could have hope.
"Everything we did through Operation Feed Atlantic City, we did so that our brothers and sisters always knew that labor stands with them. Always," President Wowkanech said. "We gave our brothers and sisters hope with every meal we distributed."
With the pandemic winding down and businesses reopening, the need for Operation Feed Atlantic City is over.
"We are grateful that so many of our brothers and sisters have returned to work," President Wowkanech said. "They know from their experience with Operation Feed Atlantic City that Labor doesn't walk away. Our solidarity is unconditional."