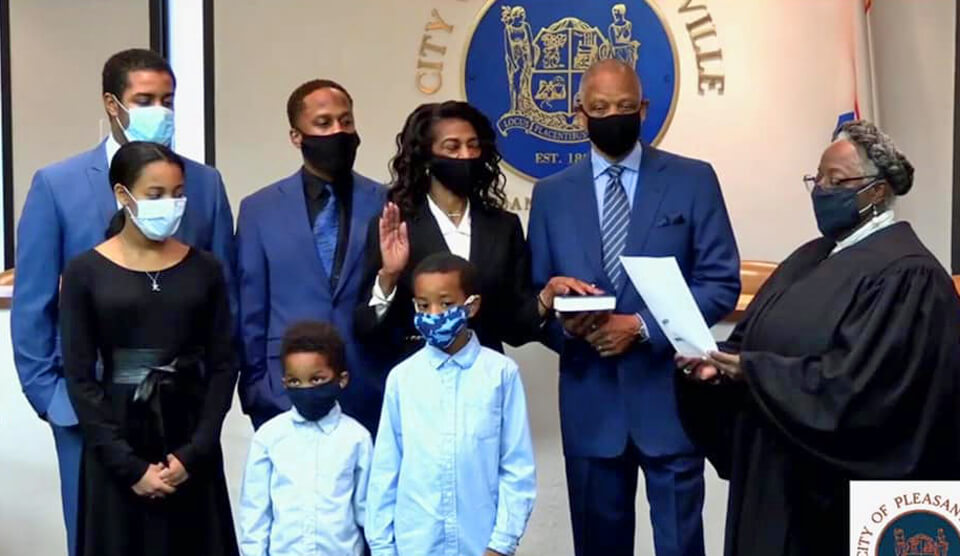 Pleasantville City Mayor Judy Ward was sworn in by Superior Court Judge Susan Maven on Jan. 1, 2021. She was joined by her husband, Wick; sons Terence and Jeren; and grandchildren Kyla, Terence Jr. and Tyson.
2021 oath-taking follows victories in November, long service to families
For some Labor Candidates, 2020 was a year of hard work to get elected. For some other Labor Candidates already holding elected positions, 2020 was a year of hard work to serve their constituents amid an unprecedented pandemic.
For all of them, 2021 is a new year of challenges and opportunities as governmental bodies in Washington and across New Jersey get organized. In many counties and towns, the annual organization meeting and swearing-in ceremonies were virtual because of COVID-19 restrictions.
Rep. Donald Norcross, D-1st District, took his place in the 117th Congress just as a new pro-union administration is arriving in Washington. Our IBEW brother will keep our Labor Movement in the spotlight as co-founder and co-chair of the Congressional Labor Caucus, among his other prestigious positions.
AFT Brother Helmin J. Caba was sworn in as Perth Amboy's new mayor after winning a hard-fought runoff election with labor support, beating a 12-year incumbent mayor. Gov. Phil Murphy administered the oath. AFSCME Sister Rose B. Morales, Brother Caba's running mate, took her seat on the Perth Amboy City Council.
CWA Sister Judy Ward was sworn in as Pleasantville mayor, the first Black woman to hold such an elected position in all of Atlantic County.
In all, 41 Labor Candidates who ran for office in 2020 won, bringing the total of Labor Candidate victories to 1,134 since 1997.
The New Jersey State AFL-CIO congratulates our brothers and sisters as they start or continue their terms of office. We stand with them and are confident that they will uphold the values of working families and our Labor Movement.
For a list of 2020's victorious Labor Candidates, please click here.
Click any image below to enlarge and scroll through the gallery
[envira-gallery id="4956″]
2020 Labor Candidates
| | | |
| --- | --- | --- |
| Name | Union | Office Won |
| Vince Sera | AFSCME 63 | Brigantine Mayor |
| Dolores Witko | AFSCME 1199J | Closter Council |
| Rose B. Morales | AFSCME 2269 | Perth Amboy Council |
| Leonard Luciano | AFT 481 | Essex County Commissioner |
| Helmin J. Caba | AFT 857 | Perth Amboy Mayor |
| | | |
| Keith Kazmark | AFT 2360 | Woodland Park Mayor |
| David Gierek | AFT 3977 | Saddle Brook Council |
| Kevin Bucceroni | AWIU 14 | Black Horse Pike Regional Board of Education |
| Judy Ward | CWA 1000 | Pleasantville Mayor |
| Kyle Hanson | CWA 1014 | Barrington Council |
| | | |
| Laura Spagnola-Vargas | CWA 1032 | Woodland Park Board of Education |
| Robert Apgar | CWA 1036 | Eastampton Council |
| Gerald "Jay" Springer | CWA 1036 | Eastampton Council |
| Michele Liebtag | CWA 1036 | Frenchtown Council |
| Allison Friedman | CWA 1037 | Aberdeen Board of Education |
| | | |
| Lauren Kremper-DiFilippo | CWA 1038 | Edgewater Park Committee |
| John Kendall | CWA/IUE 103 | Haddon Township Board of Education |
| Joseph Lukac | IBEW 102 | Manville Council |
| Jason Jones | IBEW 269 | Mount Holly Committee |
| Kyle Miller | IBEW 351 | Woodbury Council |
| | | |
| Michael Tolomeo | IBEW 351 | Stratford Council |
| Stephen Gandy | IBEW 351 | Stratford Council |
| Steve DiMatteo | IBEW 351 | Pittsgrove Board of Education |
| Donald Norcross | IBEW 351 | Congress – District 1 |
| William Sneathen | IBEW 351 | Buena Vista Board of Education |
| | | |
| Anthony Zeno | IBEW 456 | Eastampton Council |
| Lori Brigati | IBEW 1158 | Passaic Valley Regional Board of Education |
| John Devlin | IBT 331 | Atlantic City Board of Education |
| Lew Brown | IBT 676 | Mount Holly Committee |
| Joshua Hertzberg | ILA 1804-1 | Sparta Township Council |
| | | |
| Romaine Graham | IUOE 68 | Essex County Commissioner |
| Michael Martorelli | IUOE 68 | East Hanover Council |
| Chris Carney | IUOE 825 | Frankford Council |
| Wayne Richardson | LIUNA 55 | Essex County Commissioner |
| Glen Kocsis | SMART /SMW 27 | Neptune City Council |
| | | |
| Charles "Chuddy" Whalen | UA 9 | Hamilton Council |
| Christopher Hamler | UA 24 | Warren Hills Regional Board of Education |
| Tom Van Artsdalen | UBC 255 | Dennis Township Committee |
| Jonathan Young | UBC 255 | Camden County Commissioner |
| Tom Kurtz | UBC 255 | Port Republic Council |
| | | |
| Claire Volpe | UFCW 360 | Maple Shade Council |